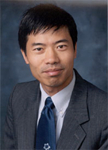 Prof. Mengchu Zhou
New Jersey Institute of Technology, USA
Fellow of IEEE, IFAC, AAAS and CAA
周孟初教授, 美国新泽西理工学院
Biography: MengChu Zhou received his B.S. degree in Control Engineering from Nanjing University of Science and Technology, Nanjing, China in 1983, M.S. degree in Automatic Control from Beijing Institute of Technology, Beijing, China in 1986, and Ph. D. degree in Computer and Systems Engineering from Rensselaer Polytechnic Institute, Troy, NY in 1990. He joined New Jersey Institute of Technology (NJIT), Newark, NJ in 1990, and is a Distinguished Professor of Electrical and Computer Engineering and the Director of Discrete-Event Systems Laboratory. His research interests are in intelligent automation, Petri nets, Internet of Things, Web service, workflow, big data, transportation and energy systems. He has over 800 publications including 12 books, 500 journal papers (over 400 in IEEE transactions), and 29 book-chapters. He holds 14 patents and several pending ones.
He is the founding Editor of IEEE Press Book Series on Systems Science and Engineering and Editor-in-Chief of IEEE/CAA Journal of Automatica Sinica. He served as Associate Editor of IEEE Transactions on Robotics and Automation, IEEE Transactions on Automation Science and Engineering, and IEEE Transactions on Industrial Informatics, and Editor of IEEE Transactions on Automation Science and Engineering. He served as a Guest-Editor for many journals including IEEE Internet of Things Journal, IEEE Transactions on Industrial Electronics, and IEEE Transactions on Semiconductor Manufacturing. He is presently Associate Editor of IEEE Transactions on Intelligent Transportation Systems, IEEE Internet of Things Journal, IEEE Transactions on Systems, Man, and Cybernetics: Systems, and Frontiers of Information Technology & Electronic Engineering. He was General Chair of IEEE Conf. on Automation Science and Engineering, Washington D.C., August 23-26, 2008, General Co-Chair of 2003 IEEE International Conference on System, Man and Cybernetics (SMC), Washington DC, October 5-8, 2003 and 2019 IEEE International Conference on SMC, Bari, Italy, Oct. 6-9, 2019, Founding General Co-Chair of 2004 IEEE Int. Conf. on Networking, Sensing and Control, Taipei, March 21-23, 2004, and General Chair of 2006 IEEE Int. Conf. on Networking, Sensing and Control, Ft. Lauderdale, Florida, U.S.A. April 23-25, 2006. He was Program Chair of 2010 IEEE International Conference on Mechatronics and Automation, August 4-7, 2010, Xi'an, China, 1998 and 2001 IEEE International Conference on SMC and 1997 IEEE International Conference on Emerging Technologies and Factory Automation. Dr. Zhou has led or participated in over 50 research and education projects with total budget over $12M, funded by National Science Foundation, Department of Defense, NIST, New Jersey Science and Technology Commission, and industry. He was a recipient of Excellence in Research Prize and Medal from NJIT, Humboldt Research Award for US Senior Scientists from Alexander von Humboldt Foundation, and Franklin V. Taylor Memorial Award and the Norbert Wiener Award from IEEE SMC Society. He has been among most highly cited scholars for years and ranked top one in the field of engineering worldwide in 2012 by Web of Science. He is Fellow of IEEE, International Federation of Automatic Control (IFAC), American Association for the Advancement of Science (AAAS) and Chinese Association of Automation (CAA).
Speech Title: Dendritic Neuron Models, Learning Algorithms and Applications
Abstract: An artificial neural network (ANN) that mimics the information processing mechanisms and procedures of neurons in human brains has achieved great success in many fields, e.g., classification, prediction and control. However, traditional ANNs suffer from many problems, such as the hard understanding problem, the slow and difficult training problem and the difficulty to scale them up. These drawbacks motivate us to develop a new dendritic neuron model (DNM) by considering the nonlinearity of synapses, not only for a better understanding of a biological neural system, but also for providing a more useful method for solving practical problems. To achieve its better performance for solving problems, six learning algorithms including biogeography-based optimization, particle swarm optimization, genetic algorithm, ant colony optimization, evolutionary strategy and population-based incremental learning are used to train it instead of the traditional backpropagation algorithm. The best combination of its user-defined parameters has been systematically investigated by using the Taguchi's experimental design method. The experiments on fourteen different problems involving classification, approximation and prediction are conducted by various neural networks. The results answer which one is the most effective in training them and prove the outstanding performance of DNM over other neural networks in solving classification, approximation and prediction problems. This talk will also reveal the novel combination of DNM and a decision-tree-based initialization method and its application to semiconductor manufacturing equipment's fault diagnosis.